Resurrecting the dead!  Horse -the other red meat!  Toilet paper gross-out advert!
From the other side of the pond, these are the year's biggest marketing failures, as chosen by MARKETING.  My Christmas gift to you:  Schadenfreude!

Top 10 marketing mishaps of 2013
by Rachel Barnes, MARKETING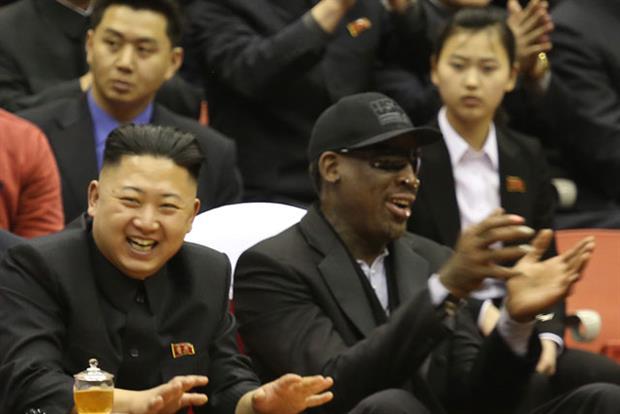 From Paddy Power's ill-advised recruitment of Dennis Rodman as a world peace envoy, to the horsemeat scandal which enveloped the UK's retailers, Marketing recounts the biggest mishaps of 2013.
Paddy Power tackles world peace
When Irish online bookmaker Paddy Power teamed up with ex-NBA star Dennis Rodman for a press conference in September, few can have been expecting them to announce a basketball match in Pyongyang aimed at bringing peace between the world's most secretive state and the West. Said Rodman: "Kim [Jong-un] loves basketball, and he's interested in building trust and understanding through sport and cultural exchanges. I know in time Americans will see I'm just trying to help us all get along and see eye-to-eye through basketball."

Hyundai discovers that suicide is no laughing matter
In a baffling attempt to inject humour into the otherwise dry subject of low-emission vehicle technology, Hyundai launched a TV ad called "Pipe job" showing a man trying to commit suicide by carbon monoxide poisoning. The big "joke" is that his Hyundai iX35 has such clean emissions that he is unable to end his life this way. For blogger Holly Brockwell, whose father killed himself using this method, this was no laughing matter, and her complaints were widely picked up by the media. Hyundai quickly apologised and pulled the ad.
Andrex grosses us out with "scrunch or fold
see the spot at:  This link works–sorry about the other one.
"It's a tough gig selling loo roll. Puppies playing with quilted tissue is one way of getting around the unpleasant business, but this year Kimberly-Clark decided that cute canines (real or animated) no longer cut it. In its infamous "scrunch or fold" campaign, created by JWT, Andrex cast aside the pleasantries, cut to the chase and asked the nation how they wiped their arses. In one execu­tion, a woman drinking a cocktail seductive­ly told us she was a "scruncher". It was a concept that a Vice blog nominated as "the worst advertising campaign ever".
The horsemeat scandal
Retailers' and food manufacturers' relentless drive to cut costs finally came back to bite them at the beginning of 2013, when it emerged that some beef ready meals contained rather less cow than consumers had been led to believe. Impressively, Findus managed to squeeze 100% horsemeat into one of its "beef" lasagnes.
Despite the scandal, it appeared that, ultimately, the British public didn't care much. Morrisons was one of the few to emerge unscathed from the debacle, but it didn't seem to do the supermarket much good, with no evidence of a sales bounce for it.
At least all those equine jokes brightened the grey winter days.
Less than pitch perfect
When HSBC concluded a five-month review of its global advertising agency arrangements in March, the bank settled upon a slightly eyebrow-raising arrangement whereby the work would be shared between JWT, Grey and Saatchi & Saatchi. That confusing situation, became even more mystifying in August, however, when it was revealed that, erm, JWT would continue to create HSBC's UK retail ads after all – and not, as originally claimed, Grey. As clear as mud.
The British Gas #fail
You're British Gas. You've just announced a 9.2% price increase. What do you do next? Why, hold a Twitter Q&A of course. In retrospect, maybe it wasn't such a good idea after all, with users of #AskBG offering little Twitter bombs such as "What is the best temperature to thaw an elderly relative at and what seasoning would you use with one?" and "Would it be OK to burn the corpses of your board of directors when I can't afford heating?"
Unilever rolls out "homophobic" ad
A fragile, human heart made of china sits against a pink background as four words written in the shape of a bullet hurtle towards it. The bullet says: "Uhh Dad, I'm gay." The strapline? "You need a strong heart today."
Full of impact? Yes. Gets a message across? Yes. Highly offensive? You don't say. Unilever claims it had nothing to do with this creative for its Flora brand, and that it was prepared by an exter­nal agency in South Africa without its approval, but the ad appeared widely, including in the UK.
Unilever will have been doubly embarrassed because its Ben & Jerry's ice-cream and frozen-yoghurt brand works hard to promote equal marriage.
"Racist van" drives into trouble
Was sending vans emblazoned with the words "Go home" into multicultural areas of London a genuine attempt to tackle illegal immigration, or the tactics of a Conservative Party desperate to play on some dog-whistle messaging to combat the resurgent UKIPpers?
Either way, #racistvan (to give the row its Twitter sobriquet) got a lot of people hot under the collar. Many found the government's adoption of a phrase favoured by far-right thugs in the 1970s despicable, while others were annoyed by those who claimed the activity was racist, denouncing them as the "PC brigade".
Nonetheless, the vans are now languishing in the scrapyard. In October, Home Secretary Theresa May halted the initiative, saying she had "not been convinced by the results".

Government procurement service woes
When government bean-counters come up against adland, bad things happen.
Having ploughed through forms of Biblical proportions, agencies pitching for Government Procurement work were aghast when it transpired that cost was one of the key factors driving the selection process.
Not only that, but live auctions, lasting days rather than hours, tested participants to the limit. Not surpris­ingly, agencies that had previously produced effective government work found themselves off the roster.
The IPA has since issued a vote of no confidence in the GPS and some improvements to the pitch processes have been made. Perhaps it will be less torturous next time round.
Johnnie Walker annoys Bruce Lee fans
see video at:
 http://www.youtube.com/watch?feature=player_embedded&v=8uzawIPFjJY
Diageo probably didn't expect the disapprobation it received from Bruce Lee fans and Chinese film-makers when resurrecting the martial-arts star for a Johnnie Walker ad.
The film, created for the Chinese markets, showed Lee brought back to life through CGI animation for the Blue Label brand extension.
Unfortunately it offended people on more than one count: the ad coincided with com­memorative activity marking 40 years since Lee's death, which cast a stronger spotlight on the fact that Lee, who famously did not drink, was appearing in an alcohol ad. Oh, and the Hong Kong-born star spoke Cantonese, not the Putonghua he was shown using in the ad.